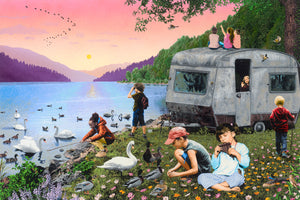 STMTS
Inspired by the duality of crisis and continued hope, STMTS creates worlds that lie between fantasy and a
contemporary reality.
bio
STMTS (b. 1993, Athens, Greece) is a visual artist working in painting, street art, and illustration. STMTS studied at the Athens School of Fine Arts and began exhibiting at a young age. His work appears in multiple museums and institutions, including the National Hellenic Museum in Chicago, the Benaki Museum, Stavros Niarchos Foundation Cultural Center, Onassis Cultural Centre (SGT) in Athens, and beyond. Through Avant Gallery, STMTS has exhibited in several international art fairs, including Art New York, Art Miami, Art Wynwood, Palm Beach Modern + Contemporary, and SCOPE Basel in Switzerland.
STMTS has been commissioned for a myriad of projects for Nicky Jam, KPMG, Doctors Without Borders (MSF), SOS Children's Villages, Carpisa, and Doctors of the World. His pieces can also be seen in campaigns for Adidas and Reebok. His street art is some of the most recognizable in the city of Athens, generating global interest and impact. I Love Life, one of his most popular street artworks, became a viral sensation in 2020. His street art can be found in publications like The New York Times, The Guardian, La Repubblica, Washington Times, Russia-24, i-D, Spiegel, YLE, and Vice.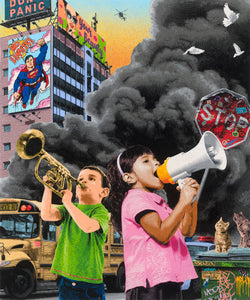 STMTS
LISTEN TO US, 2022
Acrylic and spray paint on canvas
By consciously investing power in those who traditionally lack power, STMTS finds the visual language to foreground the value of personal freedom and freedom of expression

"
Children as heroes function purely symbolically, reminding us of the meaning of the future, the innocence and the purity... at the same time, I depict them looking powerful, decisive and having knowledge and a collective consciousness to discover and question our world, its origin and the future.

"
CV
SOLO SHOWS
2022
STMTS: Power of Innocence, Avant Gallery

GROUP SHOWS
2019
There Goes the Neighborhood: New Art for The New, New York, Avant Gallery
ART FAIRS
2019
Avant Gallery at Art New York 2019, Avant Gallery
2018
Avant Gallery at Art Miami 2018, Avant Gallery