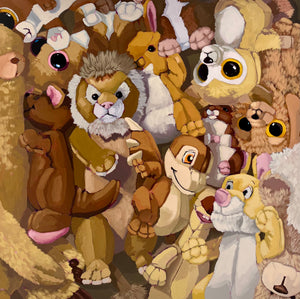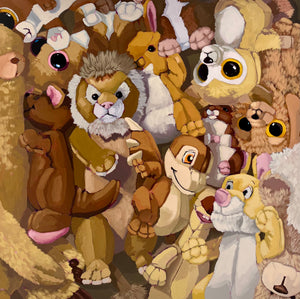 NICOLE NEWSTED
With her most recent body of work, Newsted recontextualize objects from her childhood with grown-up themes and situations.
bio
b. 1980 American
Nicole lives and works on Jupiter Island, FL, and Lake Skaneateles, NY. Her practice includes painting, ceramics, wearable art, and dance.
Nicole was born and raised by a family of artists in Upstate N.Y., a life of creativity was nurtured and encouraged. After leaving high school in the middle of her senior year, Nicole moved to NYC, where she studied under the direction of painter/sculptor Tyler K Smith.
She worked in the studio daily, exploring still life, working with clay, and attending life drawing sessions. This practice cemented her future in the fine arts. She went on to study painting and art history on a Regents Scholarship at Arizona State University. Her works are in collections across the U.S., Europe, the Middle East, and Asia.
NICOLE NEWSTED
I literally can't, 2022
Acrylic on board
I employ oversaturated colors, complex compositions, and soft forms juxtaposed with narrative titles. I utilize familiar characters as vehicles to explore the absurdity of modern life and contemporary values.