TIM TADDER
Tim Tadder re-contextualizes a high-tech present to challenge the future of art.
BIO
Tim Tadder (b. 1972, Baltimore) is an internationally acclaimed artist, photographer, and director. His powerful and graphic fine art photography employs bold colors and striking compositions to explore the value of truth, unity, and free-thinking in our current socio-political landscape. Tadder's art expresses the immense value of hope and imagination in an unprecedented period of world disruption. In the face of threats to our planet and our democracy, Tadder's work juxtaposes comfort and consumption, foreboding and freedom, in order to make sense of the world as it is today.
Tadder's client list includes some of the world's largest corporations in the world such as Adidas, Coca Cola, Mercedes-Benz, Sony and many more. Luerzer's Archive magazine has rated him among the top 200 photographers, and in 2015 he was rated by Epson as one of the five most influential photographers. The artist lives and works in San Diego, California.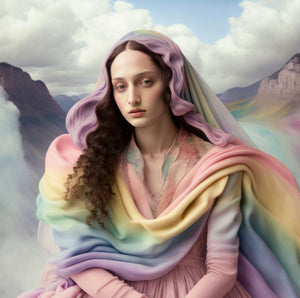 TIM TADDER
Finzione Da Vinci (AI Mona Lisa), 2023
[Tadder's] generated Mona Lisa is covered in a pastel rainbow, a 21st century Pied Piper. Behind her synthetic beauty and exquisite rendering is the conjurer itself, as if she stands in for the coming wave of AI, becomes its face. Rather than satisfy himself as a prophet of this dawning age, Tadder puts the wolf in sheep's clothing, reminding us that whatever AI will do to the world, however it will reorient human life, it will be so easy to let it in.
"
It comes with great responsibility to continue to push myself to see where the limits of my artistic boundaries are. It's one thing to get in the game—it's another to shine on the largest stage

"
SELECTED WORK
AI COLLECTION
United States of Purple
UNITED STATES OF PURPLE searches for moments of truth & equality in this tumultuous period for our nation. The COVID-19 pandemic has raised some harrowing questions regarding the continued existence of truth; however, Tadder's mesmerizing prints suggest the persistence of integrity & unity despite governmental failings & recent attacks on these fundamental notions.
Black is a color
When primary colors are mixed at equal parts, black is ultimately the precipitating color. During the process, an imperial display of tones appears in the swirling to mirror powerful structure & emotion from the subjects. At a crucial time for the nation to unite, I hope this collection encourages empathy, unity & a non-binary view of race. Black is a color challenges one to see past profiling & foresee the beauty that is capable of elevating the human experience. Black is a color demands that we look past skin tone, & into beautiful, infinitely complex humans.
CV
SOLO EXHIBITIONS
2020
Avant Gallery Presents Tim Tadder, Avant Gallery, Miami, FL


GROUP EXHIBITIONS
2021
Art is Life, Avant Gallery, New York, NY


ART FAIRS
2021 
Palm Beach Modern + Contemporary with Avant Gallery, West Palm Beach, FL
Art Wynwood, Miami, FL
PRESS HIGHLIGHTS
2021
Tim Tadder Breaks Out With "Black Is a Color", Interior Design
The Living Artist: Interview with Tim Tadder, Apple Podcasts: The Living Artist

2020
Viral Photographer Tim Tadder Shares The Secrets To Buying Photography, Forbes
Tim Tadder, an Exclusive Interview, Art Market Mag

2016
Tim Tadder Interview, aPhotoEditor