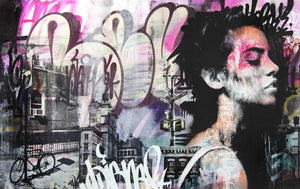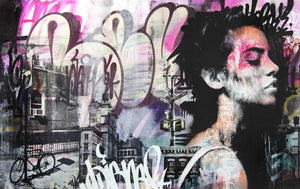 BNS
Buenos Aires-born, Brooklyn-based street artist BNS's passionate, expressive style, is deeply rooted in urban spaces, graffiti and global street art culture.
bio
Mariano, better known by his tag BNS, is a Buenos Aires-born, Brooklyn-based street artist. BNS uses aerosol paint, acrylic, and silkscreen to create his signature gritty aesthetic. His passionate, expressive style is deeply rooted in urban spaces, graffiti, and global street art culture. BNS's canvases and murals appear in cities around the world, including in the U.S., Spain, Australia, Russia and Argentina.
In 2017, his work was shown with Avant Gallery at the international SCOPE Art Fairs in Miami and Basel, Switzerland, as well as at Art Wynwood in Miami. In November of 2018, BNS announced that he is color blind. In 2019, the artist participated in the prestigious Art Miami art fair with Avant Gallery.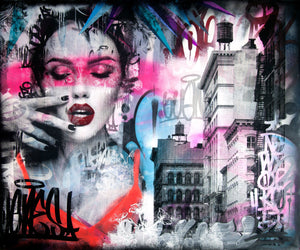 BNS
The More You Look The Less You See, 2020
Acrylic, Silkscreen, and Spray Paint on Canvas
BNS pulls iconic images from popular culture into a frenzied burst of color and dry humor, from bespoke-suited Stormtroopers to a tatted-out Audrey Hepburn. BNS' expressive style originates from his study of urban scenes and from the graffiti and street art culture; his works are characterized by the addition of numerous layers of material where he combines a broad range of media and techniques including spray paint, acrylic, silkscreen, stencil, transfers, ink, and photography.
BNS
IN STUDIO
Combining aerosol paint, acrylics, silkscreen, inks, collage and photography in his compositions, BNS builds each work with over 30 different layers. BNS describes his work as energetic and intricate, and influenced by everything from old school hip hop to the natural world.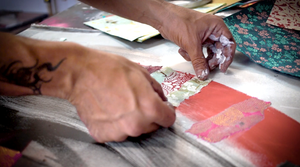 Most of the works are made on canvas, while others are on wood panels with a resin finish. These panels and their frames are hand-mitred and sanded in the studio. Usually the resin finish consists of at least 5 coats creating a depth effect, which really pops the colors of the artwork.

Each unique piece of art includes over thirty layers of different hand-pulled silkscreens layered over spray paint, paint markers, acrylic paint and ink and often collaged with lokta papers.
The silkscreen process BNS uses is notably unconventional. The screens are burnt and hand pulled by the artist himself so that he can regulate the pressure of each pull in order to achive different results. Every screen is applied onto canvas without any registration and each screen is only used once.All these factors give each image its own unique look that can not be reproduced even if desired.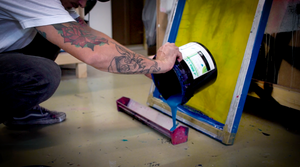 CV
GROUP SHOWS
2019
Detour's Collection I, DETOUR Gallery
2018
CLASH: An Urban Collective, DETOUR Gallery
ART FAIRS
2021
Avant Gallery at Palm Beach Modern + Contemporary | Art Wynwood 2021, Avant Gallery
2020
Avant Gallery at Art Wynwood 2020, Avant Gallery
2019
Avant Gallery at Art Miami 2019, Avant Gallery