MARCOS ANZIANI
In his latest series, Storytelling, Anziani presents personal remembrances and imaginings.
BIO
Marcos Anziani (b. 1984, Dominican Republic) was raised in the Bronx, and now living and working in Connecticut. His paintings combine lyrical abstraction with expressionism in large, gestural strokes of color. The dazzling energy of the color is, as the artist says, curbed through context and line. Protean images of people and objects emerge from this technique, producing energetic paintings that dance over the canvas.
The mostly warm colors help balance and subdue the often chaotic forms. Taking influence from luminaries such as Willem de Kooning, Joan Miró and Jean-Michel Basquiat, Anziani moves forward with visual motifs borrowed from street and naive art while working in continuity with the tradition of Abstract Expressionism.
Anziani's work has appeared in multiple solo and group exhibitions around the world. He has shown in galleries in Moscow, New York City, and Miami. In 2022, he signed on for exclusive representation through Avant Gallery. In early 2023, Anziani participated in his first group museum exhibition at the Norton Museum of Art, and successfully sold in his first major auction via Sotheby's.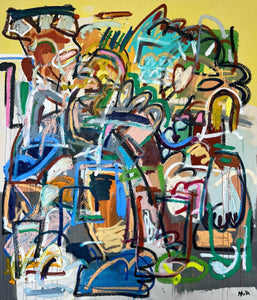 Marcos Anziani
El Conuco, 2022
Acrylic and Oil Stick on Canvas
Anziani presents a personal narrative in his trademark style. The pieces interrogate the stories we tell ourselves about our own lives, as well as the lives of others. Through a mixture of introspection and observation, he evokes the world as it feels to us. Like all great storytellers, his pieces give us a new way to see ourselves and each other. It is deeply human and evocative, diving into the particularity of the artist's experience and returning with work that speaks to the universal.
"
It is important to me to be able to place a moment in time from my perspective and surroundings into a canvas, guided by the subconscious and intuitive traumas and emotions, with the aim of encapsulating this period of human existence.

"
cv
SOLO EXHIBITIONS

2022
Storytelling, Avant Gallery, New York, NY
2020
On the Way Home, Askeri Gallery, Moscow, Russia
GROUP EXHIBITIONS

2019
NY State of Mind, Usagi, Brooklyn, NY
2018
True Independence, Lucille Kornak Gallery, New York, NY
2017
Dotted Colors, Blank Canvas Gallery, Miami, FL
ART FAIRS
2022
Palm Beach Modern + Contemporary with Avant Gallery
2020
Cosmoscow Art Fair with Askeri Gallery, Moscow, Russia
2016
The Conceptual Art Fair at Miami Art Week, FL


PRESS HIGHLIGHTS
2023
Marcos Anziani shakes the senses with his paintings, Forbes
2022
Spotlight: Inspired by Basquiat and De Kooning, Dominican-Born Artist Marcos Anziani Paints Colorful Personal Narratives With Gusto, Artnet Gallery Network