Jean-Luc Maniouloux
A master at capturing improbable encounters, Maniouloux' s installations are infused with poetry, humor, and fantasy.
bio
Visual artist Jean-Luc Maniouloux (b. 1959, France) crafts delicate compositions juxtaposing organic elements with man-made materials. Bumblebees, ants, and other small creatures face off against matches, cigarettes, and lightbulbs; nature regaining its autonomy, barreling through the obstacles imposed by the manufactured world.

Maniouloux plays with scale and literary references to raise questions about the human condition—the insects take on the role of man, grappling with a society entrenched in the absurd, and captivated by the search for clarity. In one work, the myth of Icarus takes on the form of a delicately disintegrating butterfly, moving us with its attempt to push past the limits of its own fragile state. Maniouloux's works are tableaus in which the action is implied and anticipated, bursting with energy despite appearing frozen in time. They provoke the viewer's imagination; one can almost hear the sound of the components colliding.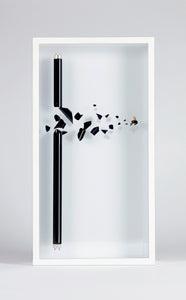 Jean-Luc Maniouloux
IMPACT, Nèon Noir, 2022
Lightbulb, bumblebee, and plexiglass
Immortalized in plexiglass cases, Jean-Luc's lyrical scenes draw maps of fabulous micro-universes, where nature can regain its autonomy. Indeed, the bumblebees, ants, and other princes and princesses of the microcosmos hardly seem to care about the obstacles imposed by our manufactured world, and ignoring any constraint, bravely forge their way through each of its counterparts.
"
Entomology is not just pinning insects in boxes, it's becoming aware of the incredible richness of a world that has been often hidden and undermined in recent times.

"
CV
SOLO SHOWS
2021
Impacts, In Arte Veritas

GROUP SHOWS
2022
Reconnection, In Arte Veritas
ART FAIRS
2022
Avant Gallery at Art Miami 2022, Avant Gallery
Avant Gallery at Art Miami 2022, Avant Gallery
2020
Villa del Arte Galleries at Amsterdam Art & Antiques 2020, Villa del Arte Galleries