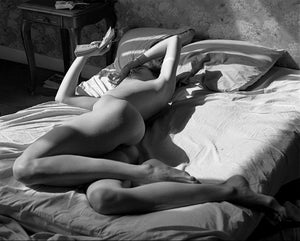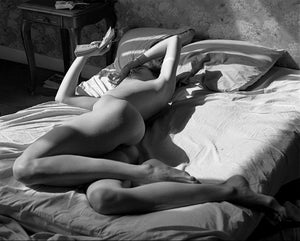 guy le baube
A contemporary of Helmut Newton and Patrick Demarchelier, French fashion photographer Guy Le Baube captured the heart of the New York and Paris fashion scenes.
bio
guy le baube
Whool, 1979
Archival pigment print
"[Behind the Scene] has never been a project. It is basically built around pictures I took right before and after shootings. All the pictures here were never meant to be art, but rather outtakes of commercial jobs...For around 50 years I just focused on portraits and commissions. I would be sent by magazines to shoot people for editorials, usually they were celebrities. Here, on the other hand, I made a point not to have too many celebrities and to dig in my archive in order to only feature people that I actually like. I'm just living out of my past."
"
You just press the button and get somehow lucky. What passes in front of you is the truth...and photography is just a way to lie truthfully: that's the movie, the novel behind the picture. Le roman de la vie has to be altered. To speak is already an exaggeration of your thoughts, and photography never existed just for the purpose of capturing the truth

"
CV
SOLO EXHIBITIONS
2019
Behind The Scenes, Avant Gallery
GROUP EXHIBITIONS
2021
Art is Life, Avant Gallery
ART FAIRS
2016
Avant Gallery at SCOPE Basel 2016, Avant Gallery