MARK KHAISMAN
Khaisman's cinematic and expressive work elevates translucent packing tape to a medium of both light and shadow, generating surprising texture, detail and delicacy.
BIO
Philadelphia-based Mark Khaisman (b. 1958, Kiev, Ukraine) is an award winning visual artist best known for his body of work created with brown packaging tape. Characterized by Khaisman as "pictorial illusions formed by light and shadow," his pieces contain three key elements: translucent packing tape, clear acrylic or film panels, and light. Khaisman has been exhibiting his works since 2005, fascinating viewers with his inventive use of tape and innovative medium.

Khaisman's oeuvre represents a combination of his background in stained glass practice, experience in architecture, and his experimentation with tape. In creating his works, he applies tape in numerous layers which allows him to vary and control the degree of opacity and light.
The pieces demonstrate his application process, giving his works depth beyond the images he creates. Iconic images, such as a Louis XIV chair or scene from an Albert Hitchcock film, juxtaposed with the disposable nature of packing tape reflect Khaisman's artistic intention as he considers these images as a shared collective memory yet always subject to reinterpretation.
Khaisman studied Art and Architecture at the Moscow Architectural Institute. His works are held in public and private collections such as the Brandywine Trust Collection, Philadelphia; Delaware Art Museum, Wilmington; NBC Collection, New York; British Airline Collection, London, among others.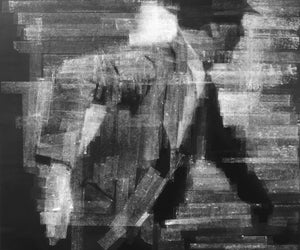 MARK KHAISMAN
TAPE NOIR, RUN, 2019
Paper pulp on clear tape over panel
Khaisman's subjects range from high brow to low culture, from art history and Hollywood cinema to teenage snapshots and personal photos. For the viewer, images are at once familiar and unfamiliar; recognition inevitably gives way to mystery.
Embracing the alchemy of transforming the quotidian into the precious, Khaisman's use of packing tape as a primary medium effects a constant vanishing, or instability. When installed in a light box, the illuminated tape is as seductive as a cinema screen, impermanent and ephemeral.
"
My works honor, question and subvert the traditions of representational art, treading the line between reality and illusion, representation and abstraction, order and chaos, continuity and simultaneity.

"
CV
SOLO EXHIBITIONS
2022
MARK KHAISMAN | The Crowds, Pentimenti Gallery
2019
FOCUS - Mark Khaisman, Galerie LeRoyer
GROUP SHOWS
2022
Art For Ukraine, Avant Gallery
2021
visions of the new terrain, Pentimenti Gallery
ART FAIRS
2021
Galerie LeRoyer at Art Toronto 2021, Galerie LeRoyer