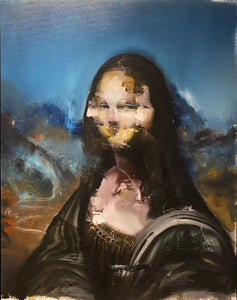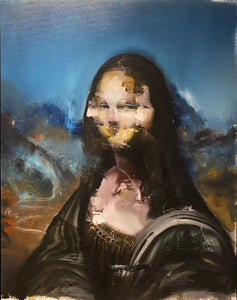 florian eymann
Taking inspiration from Caravaggio's dramatic light, Bacon's distorted figures, and Picasso's freedom of form, Eymann engages in a series of constructions and destructions to reveal modern complexities.
bio
Florian Eymann (b. 1980, Auxerre, France) is a self-taught artist best known for his oil paintings in which he explores dark themes. In dismantling and reinterpreting faces and expressions of the traditional portraiture, Eymann leans into experiments with form and relation. Largely inspired by art history, Eymann incorporates techniques reminiscent of Caravaggio and Francis Bacon. He draws on art history for subject matter as well; many of his works are reinterpretations of iconic paintings, from masterpieces like The Last Supper and The Mona Lisa to Pop Art classics like Andy Warhol's depiction of Marylin Monroe.

In 2018, Eymann's works were shown with Avant Gallery at the Art New York art fair and at SCOPE during Art Basel in Switzerland. The following year, Eymann's work was shown with Avant Gallery at the Art Miami art fair. Eymann's first U.S. solo show took place at Avant Gallery in New York in March of 2020, just days after singer Marc Anthony acquired several of the artist's paintings. Since then, Eymann has had several solo shows, participated in a number of group shows, and has been exhibited at Art Miami and Art Wynwood art fairs with Avant Gallery. Eymann currently lives and works out of France.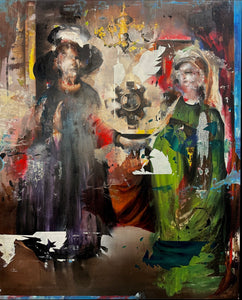 florian eymann
The Arnolfini Wedding, after Jan Van Eyck, 2023
Oil on canvas
Throughout Eymann's work, one may not know if the forces that inhabit them are destructive, generative, hostile or transformative. What may have been an original image has been covered with layers of unfathomable patterns, and seemingly all of a sudden, these accumulated layers were ripped off, allowing for glimpses of the original image. The ideas of time, deterioration, and the way that time ravishes our memories come to mind and evoke décollage artist Jacques Villeglé. In Eymann's work, however, there are no posters or ads, but portraits of characters whose identities have been stripped away. Everything is in process, evolving through transformation, change, and the wearing effects of time.
"
My work is based on interpretation and play. Play with the first feel of the visitor. We are bathed in a museum culture and I like to distort by light, texture, movement or color.

"
cv
SOLO SHOWS
2019
Bloom: Florian Eymann, Rhodes
Florian Eymann, La Galerie Schwab Beaubourg
2018
Infractures, Affenfaust Galerie

GROUP SHOWS
2022
RAMFJORD INTERNATIONAL, GALLERI RAMFJORD
2021
Art is Life, Avant Gallery
2020
Myth-Making, HOFA Gallery (House of Fine Art)
HERE AND NOW, HOFA Gallery (House of Fine Art)
2019
KNOTENPUNKT19, Affenfaust Galerie
Three Solos, Affenfaust Galerie
ART FAIRS
2022
Avant Gallery at Art Miami 2022, Avant Gallery
Avant Gallery at Art Miami 2022, Avant Gallery
2020
Avant Gallery at Art Wynwood 2020, Avant Gallery
2019
Avant Gallery at Art Miami 2019, Avant Gallery
2018
Avant Gallery at Art Miami 2018, Avant Gallery
Avant Gallery at Art New York 2018, Avant Gallery